I was super pumped about going home to study and run on the treadmill…….
Just to realize that I left my running shoes in the locker room at school since I RAN to the bus, for the first time and I was with the football guys 8th hour so I didn't have the time to think for a second.
BUT!
I walked at least for a little bit when I had studied for a while and read through everything during my powerwalk.
But when I felt like running, my feet, calves and knees protested since my feet have a high vault (?) and needs support from the shoe.
I'll have to run both Saturday and Sunday.
It was dress up-day today and I wore a tight, black dress with black, high wedges. Felt kind of tall since I'm 5'8 or more without them, hehe. Oh well, now I'm going to take a quick shower, dress and eat a sandwich before going to school again for a home game.
No volleyball this weekend, no plans at all. Except for shopping and hanging out with friends.
I'm super tired and I'm going to sleep early tonight so I can go up early tomorrow.
Here are some pictures from when Maddi, from my College Composition class, Graceanne, the girl that spent last year in Sweden, and I hung out: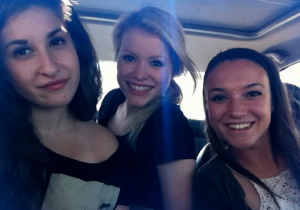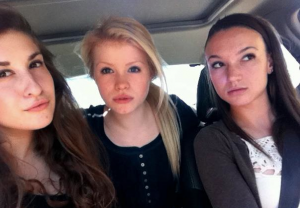 Here we are, trying to do, what Graceanne calls "the Swedish pose".
Since, apparently everybody looks like that when they take pictures in Sweden, hahaha!