A pic on all of the exchange students from this weekend.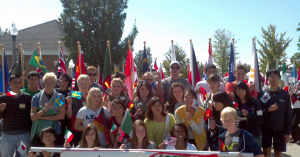 Yesterday, we lost against Kickapoo. But it was SO close! And one of our top players is injured so we fought well! And we're coming after our biggest rivals today, Ozark.
Mary and I, are gonna stay at the school when the bell rings 'cause it's not worth going home one hour.
We're going to go for a walk or something instead. And then the bus leaves at four. I'm pumped!
I have been writing a lot lately, obviously not here but in different notebooks I've got.
It seems like, every time I'm on a bus, I get inspiration from the surroundings and people around me.
I'm going to put all of these on my computer and maybe, just maybe, put them on here.
My personal thoughts and philosophies.
I doubt that I'm going to update anymore today but I hope that you think that my short updates are better than big ones every few weeks.
This is what I look like right now. And yeah, the lights in here are not that complimenting in pictures so that's why my arm is up there. Just f.y.i you know, haha.